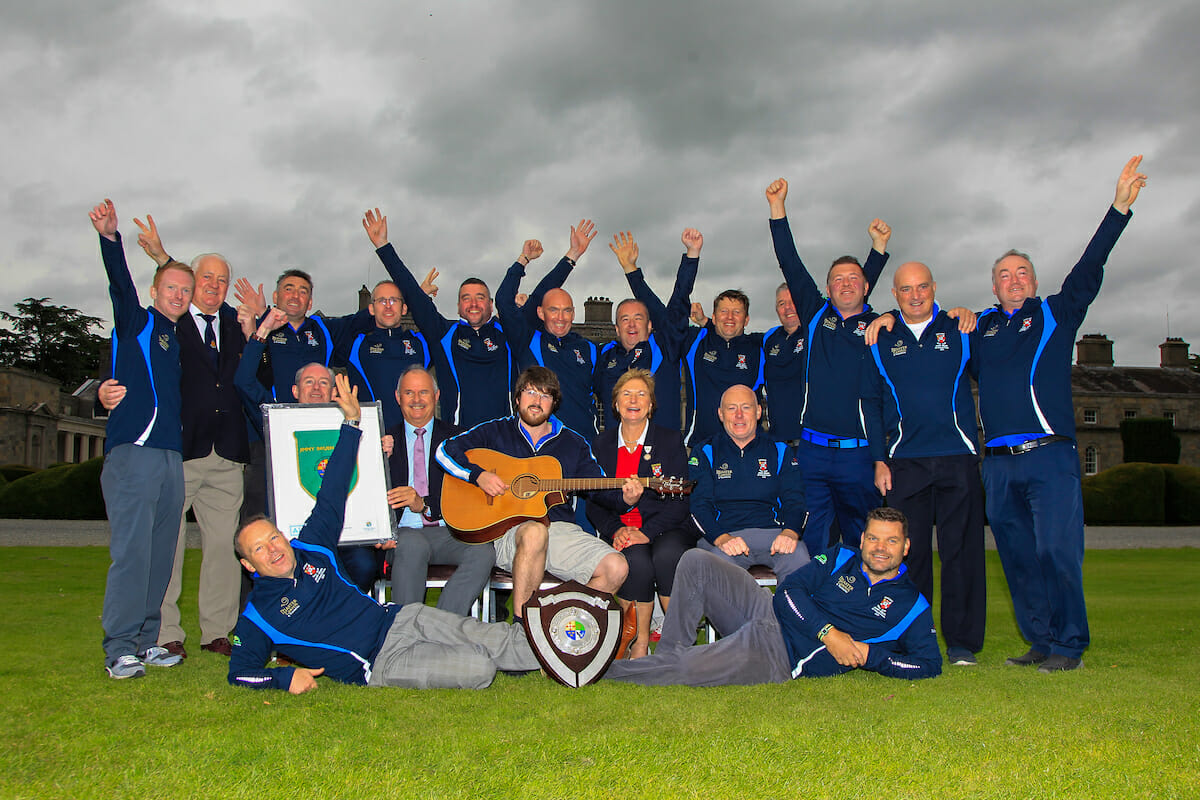 Castlebar celebrated their All-Ireland breakthrough and Galway scaled above them all on a memorable final day for the Connacht clubs at the AIG Cups and Shields.

Castlebar winners of the AIG Jimmy Bruen Shield during the AIG Cups & Shields Finals at Carton House Picture: Golffile | Thos Caffrey

From slumber deep, the west rose wide awake at Carton House. After Castlebar claimed a maiden win in the AIG Jimmy Bruen Shield, Galway were crowned AIG Senior Cup champions for the third time.

To win just once is an annual refrain in Mayo but this time their All-Ireland dream came true. It was finally made possible when Ray Prendergast and his partner Paddy Burke, better known as a Fine Gael Senator, got over the line against Warrenpoint.

Naturally, victory came the hard way. After squandering a two-hole lead, Tom Moylett and Mark Corrigan had to win down 19 to keep Castlebar alive. Corrigan rolled in a birdie from eight feet to settle their must-win contest before Prendergast and Burke secured the title with a par at the last.
"We got there eventually," said Burke. "We were beaten in the final two years ago by Ballybunion. The experience of two years ago stood to us greatly on this occasion. It's the first senior green pennant for Castlebar in 107 years."

Victory expunged the pain of that defeat.
"That was tough to take," reflected Shane Quigley, team captain in 2015. "We've been knocking on the door. We've been knocking and knocking and knocking. It's great to just get over the line. It's relief."

Quigley, 41, partnered Johan Collins in the top match. Though beaten at the last, tears of joy filled his eyes when Castlebar crossed the line.
"It means everything to win with my dad (Pat) and my son (Aaron) watching," said Quigley, whose father is a former president of the FAI. In 1993, he had tasted success at the Irish Junior Foursomes playing alongside Michael Kilcourse.
"I didn't know then how hard it is to win a green pennant," said Quigley. "I'm sure we'll go back to the golf club and have a sociable beverage. We'll bring a green pennant down there and we'll have a good party. We deserve it."

It's celebration time in Galway as well after their success in the AIG Senior Cup.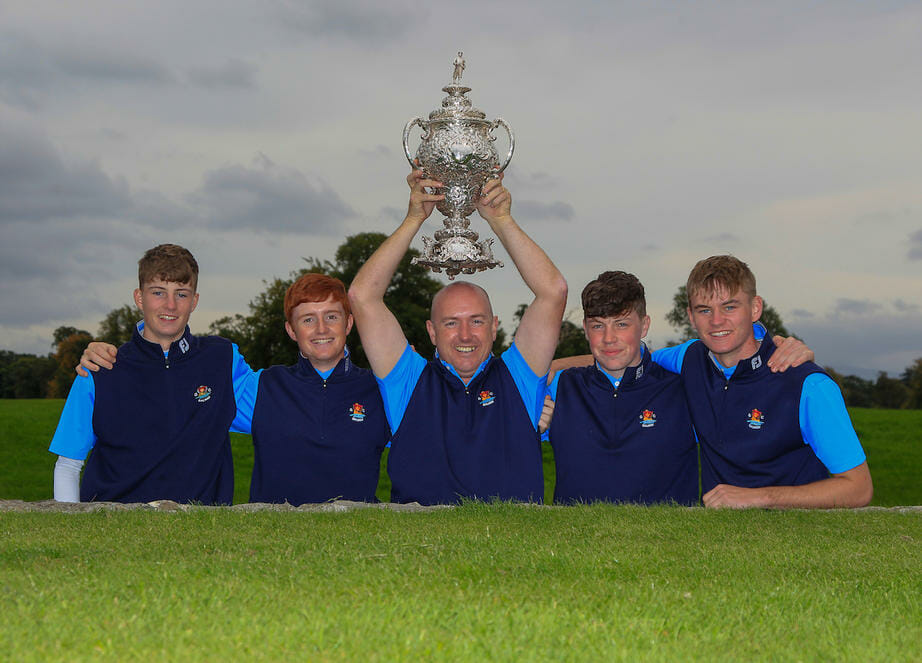 Galway winners of the AIG Senior Cup – Luke O'Neill, Ronan Mullarney, Joe Lyons, Liam Power and Liam Nolan. Picture: Golffile | Thos Caffrey

Champions on two previous occasions, 2006 and 2009, Galway claimed their third title by beating Limerick 4-1. In so doing, they made amends for their Barton Shield defeat to Warrenpoint on Thursday.

"It is great to eventually win one," admitted Ronan Mullarney. "We were calling ourselves Mayo yesterday because we were getting to the final and not making it over the last hurdle."

Mullarney, 22, delivered the key point for Galway with a 2&1 win over Michael Reddan.

"The thoughts of going home empty handed… I didn't want to say it to the lads but the thought of that was nearly driving me on more than anything else. It was the fear of losing more than the thrill of winning," said Mullarney, a winner with Maynooth University in 2015.

This win was homemade. Mullarney joined Galway as a 13-year-old and has come through their junior system.

"The club have put in huge work," he said. "The short game facility was put in five or six years ago and that's improved the amount of juniors playing in Galway as well. I remember when I started, I was number one in the Fred Daly playing off nine. You wouldn't make a second panel in Galway now playing off nine."

Luke O'Neill, two up against Justin Kehoe through 16, and Liam Nolan, who finished all square with Ciaran Vaughan, are still young enough to play Fred Daly. At the other end of the spectrum, 45-year-old Joe Lyons was winning his third Senior Cup with Galway.

"These lads look at me like I am their granddad," said Lyons. "It's a lifetime memory. In 20 years' time, you will look back and say you won a Senior Cup with these guys, even though they are 20 years younger than me. All the guys you win Senior Cup with, there's a bond. It's a lovely thing to win. It's a national title and in my mind, it's the purest form of club golf. There are no handicaps involved. There is nobody building handicaps to play in Senior Cup and Barton Shield. The teams and the golfers are genuine, and it's straight matches. It's the blue ribbon of club golf."