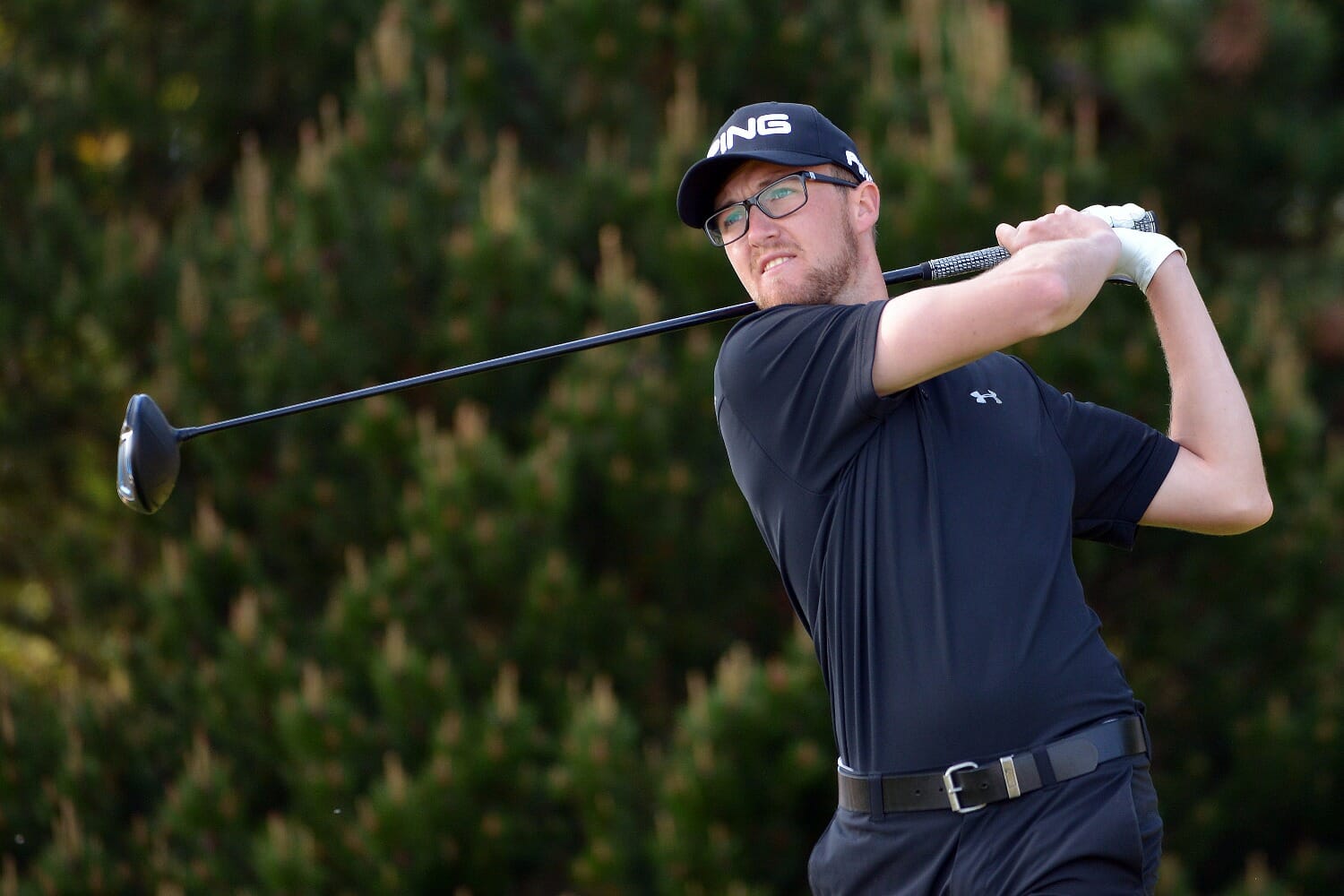 A breathless day by the coast made for perfect conditions but it was the visiting posse who made most hay in the first round of the Flogas Irish Amateur Open Championship.


At the close of play, England's Nicholas Poppleton held a slender one-shot lead. An opening round 67 was made possible thanks to a closing birdie, which sealed a rewarding day for the 23-year-old from Rotherham.

"I was lovely off the tee all day," said Poppleton. "I hit a lot of solid tee shots today more than anything and a lot of solid shots to the middle of greens."

After a relatively modest start, Poppleton birdied the ninth to turn one under. A back nine surge began with a two-putt birdie on 12 and he finished the day at four under thanks to another two-putt birdie at the last.

"I played lovely on the par-fives," he reflected. "It's the first tournament I have been to in amateur golf where they have set it up as fair as they can. It was a nice surprise that it was playing fair and there was a good score out there."

Poppleton's 67 was the low round of a glorious first day, bettering earlier efforts from Kyle McClatchie and Matthew Jordan by one shot.

Forrest Little's Jack McDonnell leads the home challenge and is just two behind the leaders after posting an impressive 69 in the afternoon. After a birdie-birdie start, McDonnell conceded shots at the fourth and the eighth but they were his only bogeys of the day. Birdies at 11 and 15 reignited his round. Tied fourth, McDonnell is among a group of four.

Portmarnock's James Fox, Peter O'Keefe from Douglas and Galway's Joe Lyons are one shot further back, among a group of six. In all, 13 players managed to break on the opening day.
Tramore international Robin Dawson, who has been second on three occasions already this year, battled his way to 71 thanks to birdies on 17 and 18. Fellow international Colin Fairweather is alongside Dawson, having mixed three birdies with three bogeys.

South African Kyle McClatchie initially set the pace during round one, scoring a hat-trick of birdies on the back nine to post minus three. That was soon matched by England's Matthew Jordan, who would have been one better but for a closing bogey in a round that featured six birdies.

McClatchie's only blemish came at the sixth when a three-putt dropped him back to level par. He had made an early gain at the second, holing from 15 feet, but had to wait until the 10th for his second birdie.

Tucked in close thanks to a sweet seven iron, McClatchie began the back nine on the front foot. With the 12th playing downwind, McClatchie capitalised, and a perfect wedge shot on 16 set up his final birdie of the day.

"Today was nice, the weather was perfect and the golf course was in unbelievable condition," said 19-year-old McClatchie, now in his second season playing full-time. "We've heard lots of stories about the golf course. It was a real treat to come out here."

It was the venue which persuaded him to travel early and add this championship to his run of events in Europe.

"I heard that it was really tough course but one of the best in the world," said McClatchie. "I was told it was a once in a lifetime experience so I was really keen to play."

McClatchie's form could not be better, having won his last two events, including a seven-stroke victory on the Big Easy Tour in Johannesburg last week. Co-leader Matthew Jordan was tied seventh at the Lytham Trophy in his last start while he was tied fourth behind Colm Campbell at the Flogas Irish Amateur Open in 2016.

Campbell endured a torrid start to his title defence, clocking up eight bogeys in a round of 79. Playing partner, American Steward Hagestad, began brilliantly and was three under after an eagle-birdie start but a quadruple bogey at the ninth left him one over at the turn. Hagestad, the low amateur at The Masters, eventually signed for a 73.

Following tomorrow's second round, there will be a re-draw for the third round, with the players going out in reverse order. After Saturday's third round, the top 50 and ties progress to the final day following a 54-hole cut.



ROUND ONE SCORES
67 N Poppleton (Wath)
68 K McClatchie (Serengeti); M Jordan (Royal Liverpool)
69 T Sloman (Taunton & Pickeridge); S Towndrow (Southport & Ainsdale); J McDonnell (Forrest Little); G Petrozzi (Trentham)
70 J Lyons (Galway); P O'Keeffe (Douglas); J Fox (Portmarnock); L Johnston (Dumfries and County); R Foley (Lausanne ); B Gill (Lindrick)
71 H Byers (Walton Heath); R Dawson (Tramore); H Bernard (Laval Sur-le-Lac); T Plumb (Sherborne); A James (Laval Sur-le-Lac); J Hilleard (Farrington Park); C Fairweather (Knock); E McIntosh (Turnhouse); L Shepherd (Rye); E McCormack (Galway Bay); G Bloor (Cavendish); M Morrissey (Co. Sligo)
72 O Percy-Smith (Furesø); C Rafferty (Dundalk); C O'Rourke (Naas); L Matthews (Southerndown ); T O'Connor (Athlone); M Norton (Belvoir Park); A Gleeson (Castle); C Raymond (Newlands); L Brown (Muriwai); R Geissler (St. Leon-Rot); A Venter (Silverlakes); J Freiburghaus (Domat/Ems); C Consul (Duesseldorfer); M Harris (St Mellons); J Skov Olesen (Naestved); J Wilson (Balmore); G Rank (Elmira); G Frimodt (Odense Eventyr); S Broholt Lind (Odder Gol)
73 J Galbraith (Whitehead); J McMahon (Wallasey); C Howie (Peebles); C Farr (Priors Hall); S Bleakley (Shandon Park); A Hickey (Ballyhaunis); D Goldstein (Noyac); S Hagestad (Deepdale); J Bolton (Ogbourne Downs); H Young-alls (Notts); G Lappin (Belvoir Park); C MacLean (Balmore); D Boote (Walton Heath); T Harris (Castletown); C Thornton (Fulford); C Ross (Kirkhill); T Randolph (Arcola); C Unger (St. Leon-Rot)
74 J Nicholas (Westchester Country Club); M Schmitt (Rheinhessen); D Dougan (Drumpelier); E Griffith (Conwy); J Pierse (Portmarnock); C Syme (Drumoig); T Vahlenkamp (Berliner Stolper Heide); L Donnelly (Kilkenny); M Nolan (Delgany); I O'Rourke (The Royal Dublin); G Lenehan (Portmarnock); R Brazill (Naas)
75 J Glenn (Brancepeth Castle); S Gregory (Corhampton); S Coulter (Warrenpoint); J Murphy (Kinsale); C Long (Burton); C Geraghty (Laytown & Bettystown); T Mulligan (Laytown & Bettystown); J Burnage (Saunton); C Boon (Oubaai); W Small (Tandragee); M Power (Kilkenny); P Coughlan (Moate); K LeBlanc (The Island); M Schmid (Herzogenaurach); S Carter (The Royal Dublin)
76 R Haije (Goyer); W Russell (Clandeboye); A McCormack (Castletroy); M Howard (The Royal Birkdale); B Chamberlain (Padeswood and Buckley); G Collins (Rosslare); J Long (Lansdown); T Cline (The Tuxedo); T Gandy (Rowany); M Waite (Filton); A Harper (Bolton OldLinks); M Saulez (Durban); N Crawford (Mourne); C Strickland (Ham Manor); J Seaman (Wrag Barn); J Stokes (La Moye); H Goddard (Hanbury Manor); T Collins (Dun Laoghaire)
77 J Hapgood (Southerndown); R Pierse (Grange); G McDermott (Carton House); C Butler (Kinsale); B Best (Rathmore); R Dutton (Tandragee); M Zillekens (Niederrheinischer); J Brady (Rosslare); K Harman (Southerndown); D Foy (Laytown & Bettystown); B Jones (Northamptonshire county); G Dunne (Co. Louth)
78 D Brophy (Castleknock); A Grant (Dundalk); J Sundborg (Shanklin & Sandown); M Ryan (New Ross); N Bachem (Marienburger); M Reid (Galgorm Castle)
79 A McDougall (Elderslie); C Campbell (Warrenpoint); E Leonard (Wentworth); M Boegel (St. Leon- Rot); T Beasley (Hunstanton); T McLarnon (Massereene)
80 J Whelan (Newlands); T Dolan (Heswall); R Neergaard-Petersen (Furesø); B Dietzel (Essen-Heidhausen); R Moran (Castle); M Hutson (Muriwai); S Hamilton (Notts); J Sugrue (Mallow)
81 H Foley (The Royal Dublin); T Junak (GC Main-Taunus)
82 J Trinder (Pymble); B Komline (Black Oak)
DQ S Ryan (The Royal Dublin)