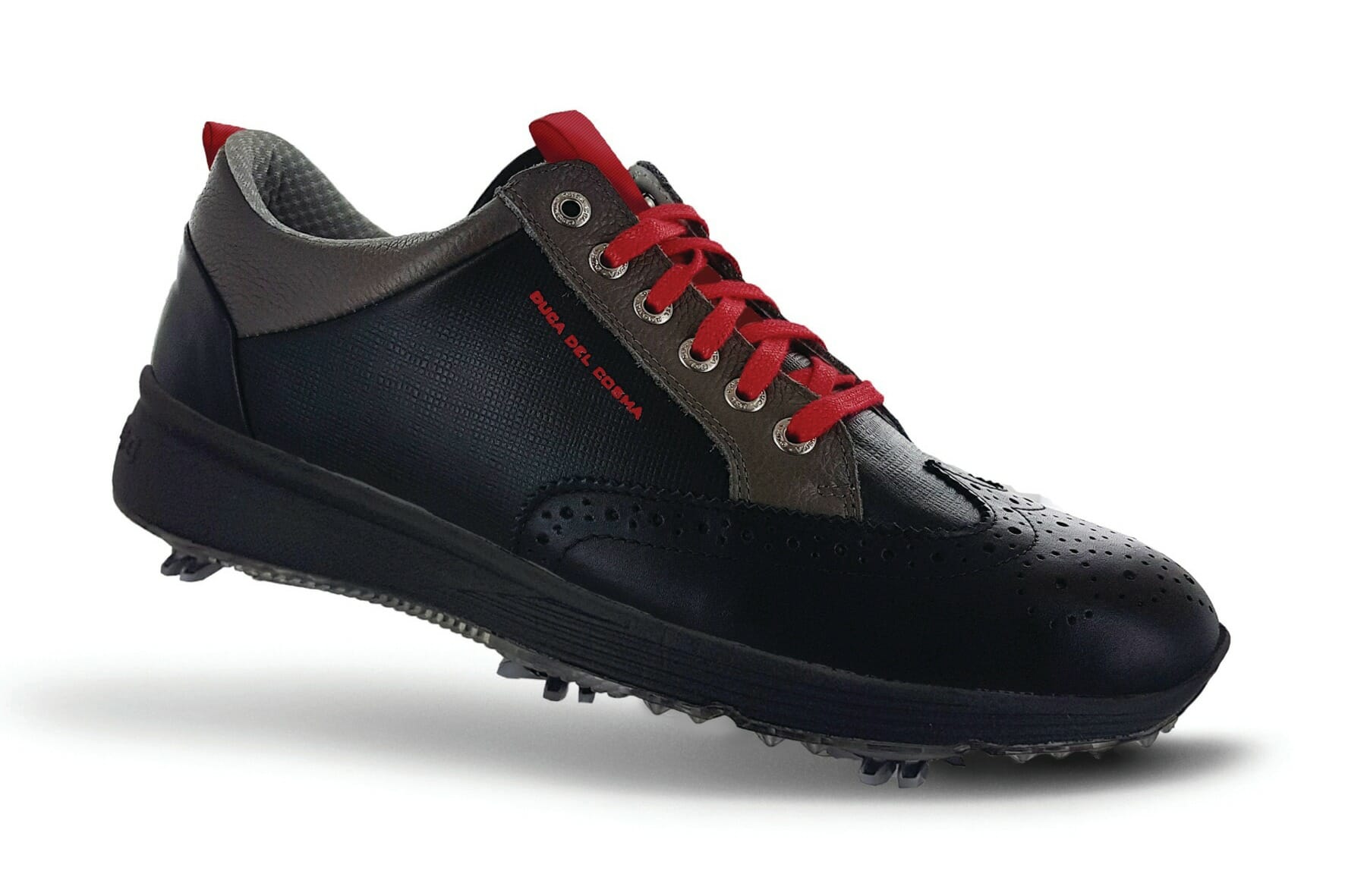 Duca del Cosma, the Italian fashion brand that pioneered ultra-lightweight spikeless golf shoes more than a decade ago, is introducing an eye-catching new range of premium golf shoes for the 2019 season that includes the brand's first-ever soft spiked shoes and boots.

The new spiked models are the standout lines in the stylish brand's latest range that combines top quality full grain leather and craftsmanship with a proven waterproof microfibre system for greater comfort and protection from the elements. They are available at selected stockists for both men and women golfers from January 2019.
"These are the first ever soft spiked golf shoes and boots designed and manufactured by Duca del Cosma in Europe and we're very excited at the prospect of having them as part of our new collection for golfers looking for something different," said Tony Eccleston, General Manager in the UK & Ireland.

The HERITAGE men's spiked shoe (RRP €229) is the star model from the new range heading into 2019. Made from full-grain leather, the shoe is extremely comfortable and playing in wet conditions is never a problem, as the feet are protected and stay dry thanks to the use of the brand's exclusive waterproof microfibre system.
The combination of Tour Lock technology and Cross System Protection on the sole of the shoe ensures that the soft spikes provide extreme grip and enable the golfer to balance performance from any stance. The shoe comes with Red and Black laces to suit the wearer's choice of outfit.

Leading the women's range is the CYPRESS soft spiked shoe (RRP €199), that offers women a combination of high-quality style and outstanding performance. Made from full-grain leather, the shoe is both comfortable and durable. A reptile detail on the heel and saddle illustrates the attention to detail and the laces can be swapped between Red and Navy to match the outfit. The waterproof microfibre system and sealed leather seams ensure that the feet will stay dry and protected however wet the conditions.
The two spiked boots that offer the same technical benefits as the more conventional shoes are the men's SENATOR (RRP €239) and the ladies' ARMADA (€199).


The popular KUBA shoe (RRP €199) from Duca del Cosma and the brand's most successful spikeless model from the previous range, has been redesigned with a sleek, black tone-on-tone look to make it more suitable for the winter period.
Also heading into 2019 with a new colourway is the CAMELOT spikeless shoe (RRP €249) that incorporates overlapping leathers and a brogue toe area, constructed with exceptional attention to detail. An elegant colour combination of Navy/Cognac/Red provides a stylish look.

The latest range also features two new spikeless models for women. The WESTCLIFF golf shoe (RRP €199) is made from soft full-grain leather with embossed patterns and wax laces that deliver a luxurious finish. The PALOMA (RRP €199) is a classic women's winter spikeless golf boot with rich embossed patterns and neoprene detailing looks stylish both on and off the course. Made from soft full-grain leather, it features the brand's waterproof microfibre system and breathable membrane to keep feet dry.
To see the full Duca del Cosma range. visit the website: www.ducadelcosma.com