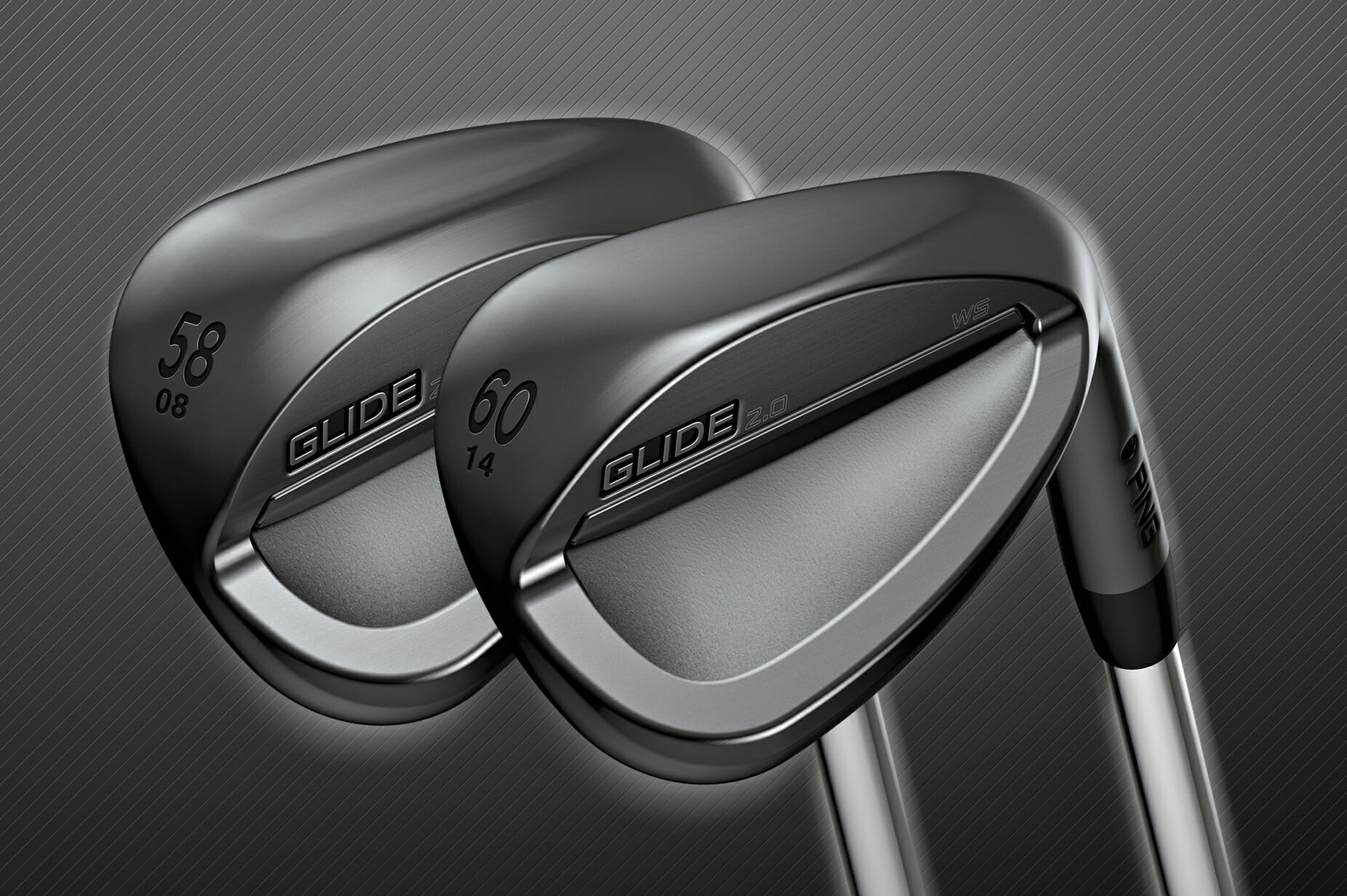 The Ping Glide 2.0 Stealth wedge has been revealed featuring a new glare reducing finish helping the head to appear more compact than the standard Glide 2.0 wedge.

The Glide 2.0 Stealth wedges' 8620 carbon steel head and precision-milled grooves deliver a softer feel and higher-spinning shots for greater control. The tour-inspired Stealth finish, which yields less glare and makes the head appear smaller, is applied using a QPQ (Quench Polish Quench) process for added durability. This wedge fits the game and the eye of players for whom performance and appearance go hand in hand.

A patented precision wheel-cut half groove near the lead edge on the 56⁰, 58⁰ and 60⁰ improves engagement with the ball (specifically low on the face) to significantly increase spin and control from all conditions. The wheel-cut milling process was developed by PING's engineering and manufacturing teams to enable grooves with a sharper edge radius, which increases interaction with the cover of the ball at impact, creating more friction for improved spin and trajectory control. The grooves in the lower-lofted wedges (46°, 50° & 52°) are milled with a 20° sidewall and a .005″ edge radius for optimal full-shot performance. The higher-lofted versions (54°, 56°, 58° & 60°) are milled to a .004″ edge radius and a 28° sidewall to impart more spin, especially around the greens.

"The tour player response has been exceptional," said Solheim. "The players' first comment about the Stealth finish, which not only looks cool, they like how it makes the head appear smaller and it limits reflections on bright days. Once they feel it and see how much spin and control the grooves provide, the wedges go straight in the bag."
The patented design is offered in four sole grinds (SS, WS, ES and TS) to ensure Glide 2.0 Stealth wedges can be fit to a golfer's divot depth or attack angle and most common turf conditions.


The 4 Grind options available
SS GRIND (46°/12°, 50°/12°, 52°/12°, 54°/12°, 56°/12°, 58°/10°, 60/10°)
An all-purpose mid-bounce sole with heel and trail edge relief to create versatility on touch shots around the green. Ideal for moderate attack angles and divots. Fits most golfers.

WS GRIND (54°/14°, 56°/14°, 58°/14°, 60/14°)
Full-sole design that provides turf security for players with a steep angle of attack. The reduced camber and added width prevent digging.

TS GRIND (58°/6°, 60°/6°)
A PING WRX-inspired design based on the Tour-proven half-moon grind. The TS grind facilitates shot making and precision from even the most difficult lies. The heel relief allows shots to be executed with an open face to difficult pins, or from firm lies without fear of the lead edge sitting too high.

ES GRIND (54°/8°, 56°/8°, 58°/8°, 60°/8°)
Eye 2-inspired sole design provides the ultimate in bunker performance, resulting from the classic dish profile and the tapered hosel. A refined lead edge upgrades all-around performance with the iconic ES grind.

Glide 2.0 Stealth Wedges Technology and Specifications
The Glide 2.0 Stealth comes with a Stock steel shaft of PING AWT 2.0 Wedge; and a stock graphite shaft of PING CFS 65/70/80 (Soft R, R, S)
Ping also offer the following aftermarket steel shaft options with no upcharge: True Temper Dynamic Gold (S300, X100), Dynamic Gold 105 (R300, S300), Dynamic Gold 120 (S300, X100) Project X LZ (5.0, 5.5, 6.0, 6.5), True Temper XP95 (R, S,), Nippon NS Pro Modus 105 (S, X), KBS Tour (R, S, X)
RRP: €159 per club w/steel shaft; €169 per club w/graphite shaft