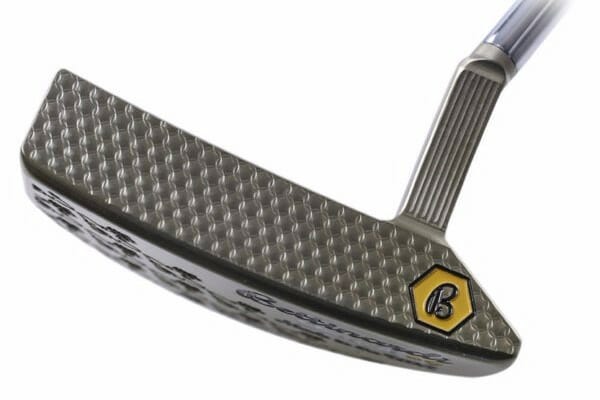 Putting is an art form and Bettinardi is the king of unique and different putter designs. You don't see them in every high street golf store, and for very good reason.



You may be familiar with the Bettinardi name after a successful alliance with the Mizuno Golf Company from 2009 – 2012. The family then decided to branch off on their own re-creating Bettinardi Golf as an independent golf brand. It was in 2010 that Robert J Bettinardi re-created the BB Series which featured 5 classic head styles in a black chrome finish. The following year the Studio Stock and Signature Series of putters were created, adding new families and depth to the product line. In 2012 The Queen B line-up was born to provide golfers with heavier head styles in unique decorative finishes.

While the line was designed originally for the lady golfer, the line has evolved to appeal to both genders now. The 2017 Queen B range consists of two models the #8 and #9 with both beautifully milled putters.
The Queen B #9 was designed for the player who has a more broadly arcing stroke who prefers a rounded, flow neck mallet.
The 4:30 pm toe hang on the #9 suited my eye and putting stroke straight away. The high toe is also a very appealing look and the rounded mallet like flange is a slight departure from my normal, but I liked the idea of added alignment help. The short flow neck is also a nice touch. If you stripped this putter of all its finishing touches, the design is still pretty unique and yet very functional.



The sole is milled with Bees, the face is honeycomb micro milled and the B hex on the face with Bettinardi script in the cavity all create a most beautiful putter. The white Lamkin Corded putter grip and white hardcover give a luxurious look.

The Bettinardi Queen B #9 is more than just a beautiful putter and really gives the feeling of effortless distance control and created a really solid feel at impact while still delivers that soft roll off the face. The flange on this putter helps with a longer alignment line.

The feel of this soft carbon steel putter is as soft as any metal faced putter you will every roll. I'm normally an insert guy but still got a perfect soft feel from the face. The 362 gram weight is also a nice touch for a good balanced feel.

Bettinardi Queen B #9 Specs
Weight: 362 grams
Material: Mild Carbon Steel
Finish: Satin Silver
Grip: White Corded Lamkin (Standard or Jumbo)
Dexterity: Right Handed
Loft: 3°
Lie: 70°

RRP of €350
For more information: www.bettinardi.com