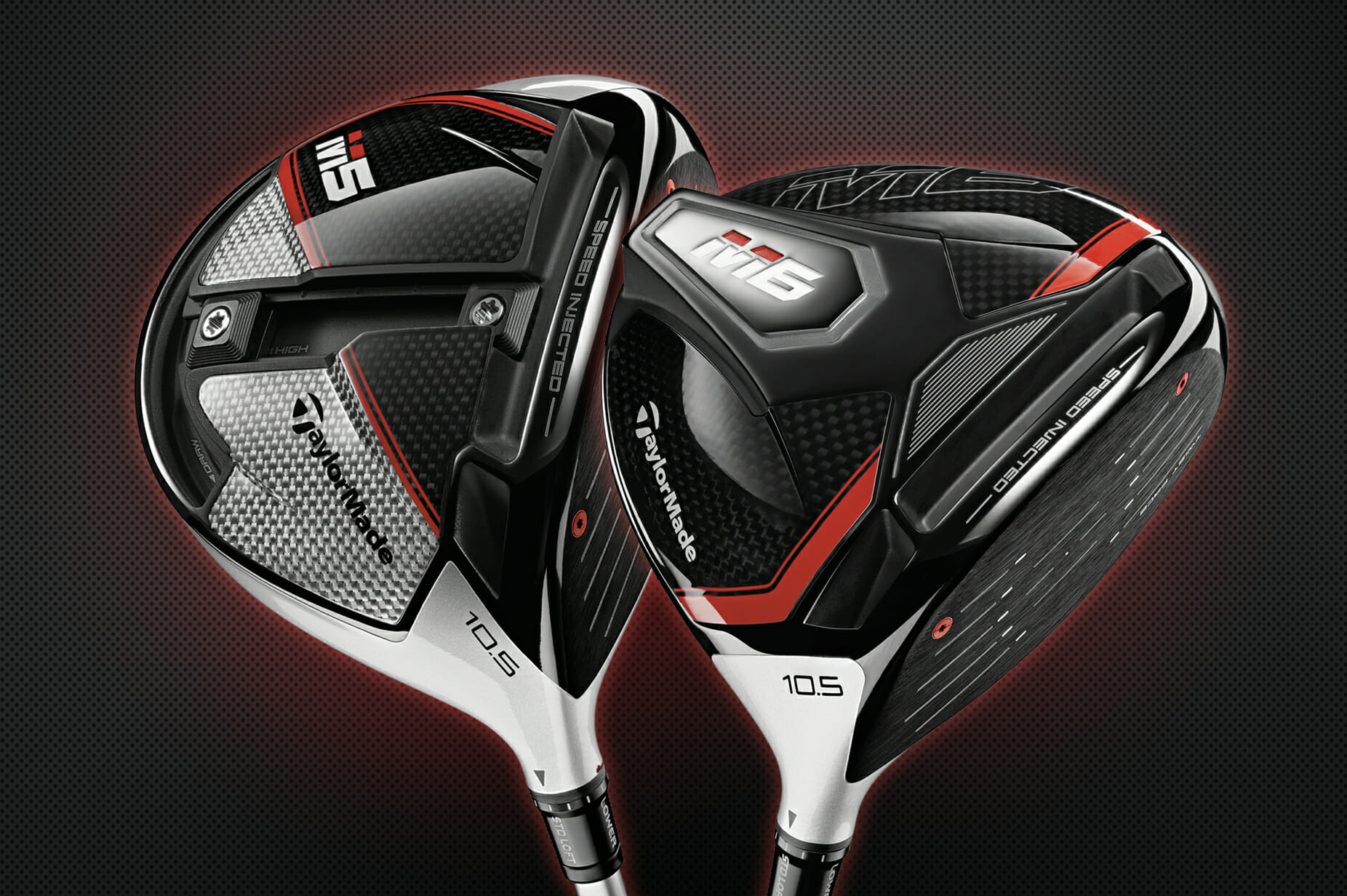 "Everybody gets faster" that's the promise TaylorMade are making for 2019 with the unveiling of its new M5 and M6 drivers.

M5 and M6 drivers are both built featuring last year's Twist Face technology designed to help correct off center hits in the toe and heel area of the clubface and improve dispersion off the tee. The 2018 message from TaylorMade was straight distance and while that was still up for debate in certain circles TaylorMade have made a bold move for 2019 literally taking speed to the limit with Injected Twist Face.

What is injected Twist Face ?
As you may be aware there is a limit as to how much the face of any driver is allowed to spring at impact. This limit was introduced in 2003 and is referred to as the "COR" of the clubhead. COR is an acronym for "Coefficient of Restitution." It's a term from the world of science and physics describing the energy transference between two objects – In golf terms, a driver face to a golf ball, think of a trampoline effect.
This COR rate is set to 0.830 and the goal for all manufactures is to get their faces as close as possible to the limit that they can but it's a complicated process. The most minute of adjustments will make a difference to a clubs COR, polishing, adding paintwork to a head that comes off the manufacturing line etc will leave a clubface measuring differently all across a clubface.

It's a trade-off and equipment manufacturers have to avoid producing anything that breaks the rules as it would be an illegal golf club. Up to now they have dialled back away from this 0.830 limit to give them a little bit of tolerance and room to work with through the manufacturing process meaning every driver you pick up will measure differently and indeed perform and feel differently.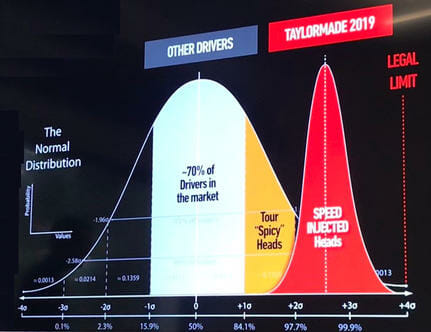 You may not have been aware of the number but chances are you may have experienced different ends of the spectrum hitting drivers. Your buddy buys a new driver, you hit it and it feels great off the face, you head to your local proshop and try one out of the exact same spec and it just doesn't feel the same. TaylorMade say this is because most heads on shelf have different COR rates.

Its like a speed lottery, you can be lucky and get one that is close to the limit but more often than not the tolerance is slightly further back on the below scale. 70% of all drivers are actually well back from the limit as per the diagram and only the hand-picked Tour issue heads existed close to the limit of .830. Well not any more say TaylorMade.

If you ever watch a tour player getting fit they have anything from 5 to 10 of the same head looking for that unicorn in the bunch, that "Spicy" Tour head that is right on the limit because it will make a differance.
What TaylorMade wanted to do for 2019 is try offer every golfer "Spicey" Tour heads right on the max COR limit, like having every head in the proshop the same as a Tour issue driver.

So how have they done this ? Well it sounds risky but they have actually manufactured the clubs beyond the legal COR limit and using a proprietary algorithm to ensure the appropriate amount of resin is injected behind each face on the heel and toe (those orange ports on the face) to slow it down, yes slow it down and balance it to right bang on the legal limit of 0.830, fairly clever.

This final injection process actually freed up the R&D team to design every M5 and M6 driver with a thinner, more flexible face to ensure maximum speed for each head as they had the insurance of the final injection process knowing they could push the face a lot further than in past M models.

There are four key features to the design of Speed Injected Twist Face that
allow TaylorMade to maximise ballspeed, working in unison to allow every M5 & M6 driver maximise speed to the allowable limit.
1. Ultra-thin Titanium face with redesigned Inverted Cone Technology (ICT)
2. Reengineered, more-flexible Hammerhead 2.0 slot
3. Internal support foam with variable amounts of injected resin
4. A proprietary algorithm to tune each head

M5 Driver


The M5 driver is loaded with previous technologies and pushed to new limits. As well as injected Twist Face and an improved hammerhead slot the new face design is optimised with up to a 20% reduction in thickness that results in a 66% larger sweetspot in the M5 drivers over the M3 and more than 100% larger than the original M1 in 2015.
Another significant improvement in the M5 design is a new Inverted T-Track sliding sole weight design, which replaces the previous Y-Track and provides 1,770 CG configurations for customized performance.
The key is two 10-gram weights that can be easily adjusted along the improved T-Track to intuitively tune launch angle and spin rate to fit personal preference. In total, the Inverted T-Track allows for one degree of launch angle change, 600 RPM's of spin, and approximately 25 yards of left-to-right adjustment. In addition to the new T-Track, an adjustable loft sleeve provides another two degrees of movement in loft, lie angle, and face angle, making it outrageously customizable.
The carbon composite crown is now in its 4th consecutive generation M product and TaylorMade engineers were able to save more discretionary weight to create an
optimised centre of gravity to deliver a hotter trajectory with increased forgiveness. The 2019 M5 and M6 have increased the overall composite crown footprint by 10%.
The M5 is also available in a Tour model that provides all the same technologies as the standard M5 but in a more compact, 435cc size that provides lower spin rates and increased shot-shaping control.

M5 & M5 Tour Specifications, Availability & Pricing
Available on February 15, 2019 at an RRP € 599, the M5 driver will be offered in 9°, 10.5° and 12° lofts. The M5 Tour driver will be available on March 1, 2019 at the same RRP as the M5 driver and is available in 9° and 10.5° lofts. Both the M5 & M5 Tour come equipped with either a Mitsubishi CK Tensei Orange 60 and Project X's new HZRDUS Smoke 70 shaft with numerous additional shaft options available at no additional cost.
M6 Driver

M6 is built with most of the same technologies as M5 featuring injected Twist Face an improved hammerhead slot and a new face design but without the customisation options of the Inverted T-Track in the sole. M6 has a slightly taller face than M5 and also includes the same 6-layer carbon composite crown as the M5 driver but M6 adds a complete carbon fibre sole, allowing for significantly more discretionary weight to be used elsewhere in the clubhead – as much as 54% more than the 2018 M4.With the weight savings, engineers were able to create a sleek, aerodynamic shape inclusive of the new 'inertia generator.' The inertia generator houses the additional discretionary weight extremely low and back for maximum forgiveness while lowering the CG compared to previous models.

M6 D-Type Driver
The anti-slice D-Type model is built with the same technologies as M6 but features a draw bias and new top line that creates a more square appearance than typical draw models.
TaylorMade engineers have utilised a combination of technologies to create a significant amount of draw bias to help golfers prevent a right miss. The key feature is the optical engineering that creates a high-contrast topline masking configured to make the face angle appear more open than the actual face angle, resulting in the golfer returning a more closed face at impact. In addition, the centre of gravity is moved slightly toward the heel to further aid in delivering a square clubface to the golf ball. The combination of these features provides the M6 D-Type driver up to 20 yards more draw bias than the standard M6 driver.

M6 & M6 D-Type Specifications, Pricing & Availability
Also available on February 15, 2019 at an RRP of €529, the M6 and M6 D-Type
drivers will be offered in 9°, 10.5° and 12° (RH only) lofts. The M6 driver has two
stock shaft options from Fujikura, the high-launching Atmos Orange 5 and a lower- launching Atmos Black 6 in S-, R- and A-flexes. The M6 D-Type comes equipped with a Project X EvenFlow Max Carry 45 shaft in 6.0 (S), 5.5 (R) and 5.0 (A).
For ladies, the M6 and M6 D-Type drivers will be offered in 10.5° and 12° lofts (RH only) and come equipped with TaylorMade's Tuned Performance 45g L-flex shaft. Both drivers are available with numerous additional shaft options at no additional cost.
VIDEO BELOW – We sat down with Brian Bazzel, Director of product creation at TaylorMade to talk through the new tech