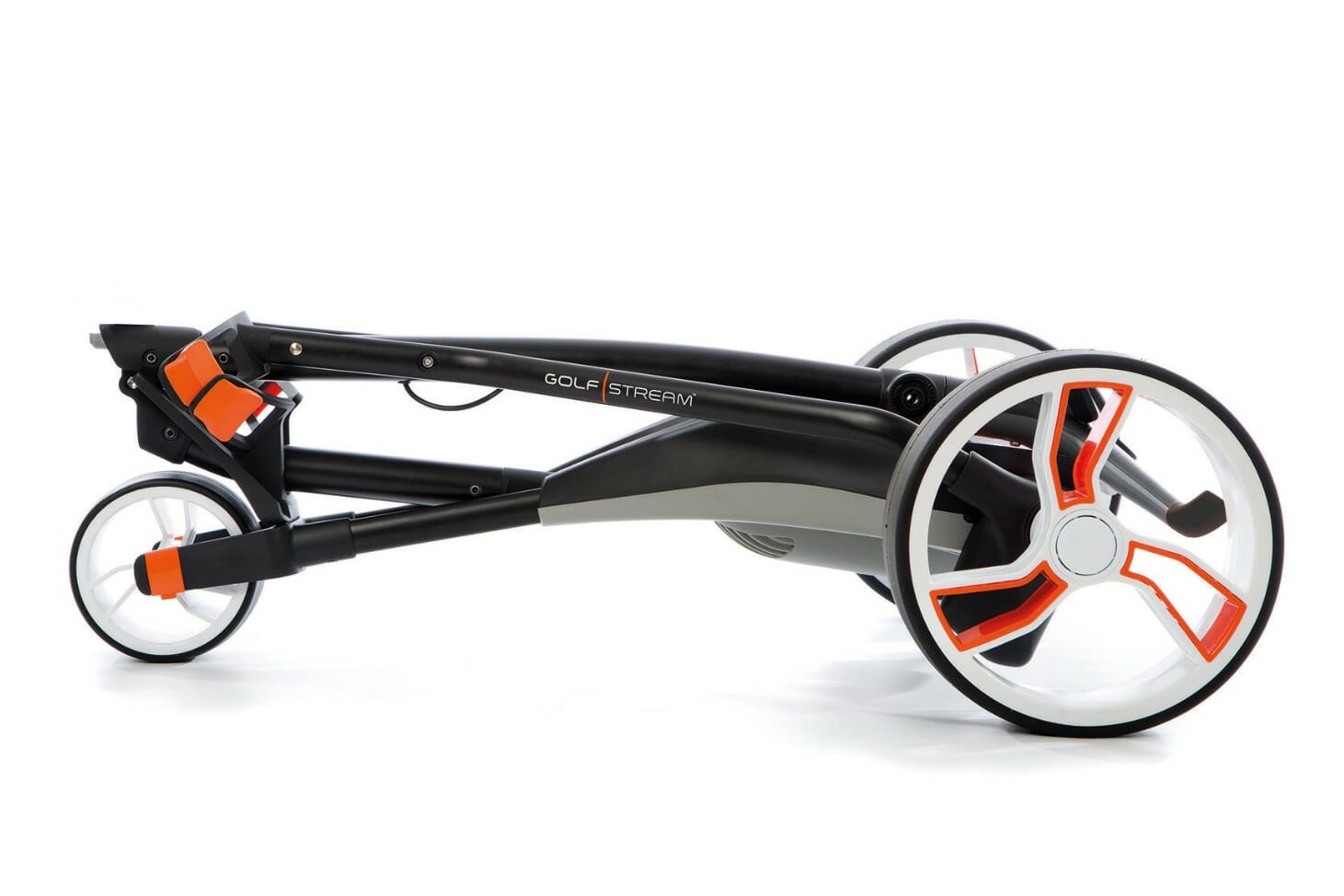 Featuring one of the best one-touch, easy-fold mechanisms we have seen, compact in size plus whisper quiet operation, the Vision trolley is not to be overlooked.

Golfstream, sole distributor of CaddyCell lithium batteries, have launched their most feature packed electric golf trolley to date, Vision.

Addressing one of the key issues with electric trolleys – reading the screen in direct sunlight – the aptly named Vision golf trolley comes with a revolutionary new Caddy White display screen that can be read in even the brightest, most direct sunlight. Think e-Reader and you will get the idea.

Add to this their simple, revolutionary one-click open and close mechanism and the Golfstream Vision becomes the easiest and simplest electric trolley to use in the world of golf.
Derek Richford, Managing Director said "All golfers have battled to read the screens on their golf trolleys since they first came onto the scene, we felt it was about time that this most annoying issue was addressed.

It doesn't take a lot of sunlight to make reading the traditional black screens difficult due to intense reflection, but the Caddy White screen removes this issue no matter where golf is played in the world. It's new, revolutionary and we believe will make using an electric trolley more convenient and enjoyable".

Derek continued "Seeing people struggling to open and close their machines at the boot of their car inspired us to design the Vision one touch mechanism, we believe it makes the Vision the easiest trolley to use in the world".

New features include:
One-touch, easy-fold mechanism that makes the Vision the simplest trolley to set up and fold away in the world
Small fold down size making it one of the most compact trolleys in its class
Magnetic latch that holds the trolley together in the folded position to make carrying and transporting the Vision hassle-free.
High-grip slick PU tyres that are five times more durable than normal tyres providing a super-smooth, cushioned ride for your clubs and valuables.
200v whisper-quiet motor that will carry clubs with ease across all terrains.
An 18-hole lithium CaddyCell LifePO4 battery, which is supplied as standard, sits in a sleek power platform that is conveniently designed to take all other popular brands of batteries.
As with all Golfstream trolleys, the Vision holds your golf bag firmly in place by using the side arms, rather than balancing it on the central spine as most others do, avoiding unnecessary 'bag wobble' over bumpy ground.

A non-clogging front wheel housing, combined with easily detachable main wheels, ensures that cleaning and servicing is also a simple task.
The button on the handle enables the Vision to be programmed for left and right-handed use and provides access to a distance control function, with speed increments of 0.5, enabling the speed to be perfectly matched to a golfer's walking pace.

The main Caddy White screen can be personalised with a golfer's details, whilst there is a 'simplicity' mode, also accessed through the button on the handle, for golfer's who just want to get on with their game with the minimum of features.

For complete customisation, the whole colour scheme can be quickly swapped to any one of five colours from Golfstream's new accessory range.
The Golfstream Vision, which comes with a two-year parts and labour guarantee represents great value for money for golfers that demand total performance and reliability from their power trolley.

The new Vision electric trolley from Golfstream is now available for an RRP of just €549 for the 18-hole lithium version. To compliment the new launch Golfstream have also launched a new web site www.golfstream.co.uk