More than 30 years of playability expertise and a true passion for the game ensures that tangible performance benefits are built into every detail of the new lightweight, high performance garments that deliver compatible layers designed to enable golfers to perform at their best even in the most extreme playing conditions.
The new range features the most advanced fabric technologies from around the world, as well as a dazzling array of the brand's customary bright Springtime Yellow, Red and Blue colourways, matched with outfits offering comfort and style both on and off the golf course for men, women and juniors.
The established 'Green in Galvin Green' theme is taken to another level with the inclusion of more recycled and sustainable materials designed to last longer. Around 70% of the garments are now produced using environmental Bluesign approved fabric or certified by OEKO-TEX 100 to cover thread and buttons as well as fabric. Labels and packaging also come in eco-friendly formats.
"This new collection reflects our vision of GameDay being just about every day for the serious golfer and they can feel confident that we have gone the extra mile to give them the ultimate GameDay experience with the most advanced golf clothing range on the market," said CEO Nicholai Stein. "As with every serious golfer, we never compromise on what we do or believe in. So, we've also taken our holistic approach to sustainability to another level, while enabling golfers to look great, feel special and perform at their peak whenever possible and whatever the weather."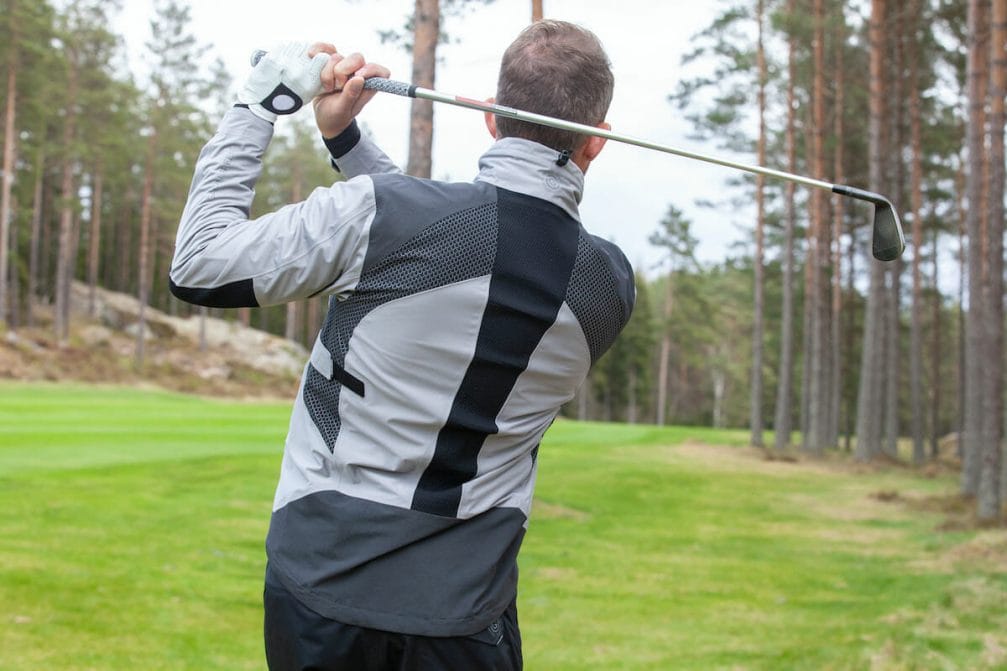 GORE-TEX
No fewer than 14 GORE-TEX jacket options are available in the latest waterproof range for Men, including a new full-zip SHAKEDRY jacket (ANGUS – RRP £329/€399) made even more flexible by Superstretch panels across the back. Weighing just 210g – less than 4 golf balls – it also features abrasion resistant fabric on the cuffs.
Offering extra warmth, the new C-KNIT 'slide & glide' lined jacket (ACTION – £449/€499)
incorporates strengthened fabric on the shoulders and lower back for club-carrying golfers, plus Superstretch inserts on the back and elbows. Zippers finished with a carbon look distinguish the sporty ACE (£329/€369) jacket.
Each of these jackets can be matched with five different GORE-TEX waterproof trouser options, including the ALPHA (£399/€449) with the C-KNIT 'slide & glide' lining to avoid friction with trousers worn underneath and available in several size options.
The popular APOLLO (£289/€339) full-zip jacket line in ultra-lightweight GORE-TEX Paclite fabric has been extended to include three fresh colourway options, including White/Cool grey/Navy/Red, and a new streamlined half-zip jacket (ADEN – £269/€299) comes in Navy/White.
INTERFACE-1
An expanded INTERFACE-1 range of 16 windproof and water-repellent jackets and bodywarmers, includes a new super-soft, stretchy 3-layer polyester knit fabric in the LINC
(£249/€289) jacket, with body-mapped padding on the chest and back in a stylish quilted design and a high level #3 warming effect.
Other new INTERFACE-1 jackets that can be worn 95 out of 100 rounds include the LUCAS (£189/€199), LOUIE (£189/€199) and LANZO (£249/€289), which features top-quality PRIMALOFT padded inserts.
INSULA
Among INSULA sweaters in 28 different options are the super stretchy DANTE (£149/€169) hoodie featuring a neckline designed to remain stationary during the swing. The new DUKE (£149/€169) and DOMINIC (£149/€159) half-zip sweaters are made entirely from recycled plastic bottles in fabric woven in Italy, with padding on the shoulders for extra warmth. The DWIGHT (£115/€129) style has undergone a facelift with new colours among seven variations, while the popular DIXON (£99/€109) sweaters are also available in five colour choices, including Red, Navy and Blue Bell.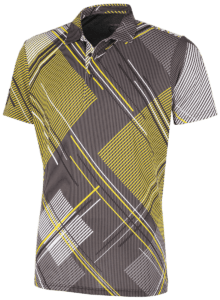 The extended VENTIL8 PLUS shirt range offers 38 different shirt options, including the MITCHELL (£69/€99) QuickDry style in stretch fabric with UV protection 20+ in four colours and a bold pattern design; the MONTY (£69/€79), MAX (£59/€69) and MILAN (£69/€99) in bright Red, Navy and Yellow colour choices; the MARC (£95/€109) long-sleeved shirt in three colours; and the OEKO-TEX 100 certified MARCUS (£69/€85) with distinctive striped sleeves.
Nine pairs of trousers and eight shorts come in regular and fitted options made from a new lightweight stretch VENTIL8 PLUS fabric created in the brand's native Sweden. Sharkskin has been added to the colour choices in the NOAH (£99/€115) and NIXON (£89/€99) pairs, while the NIGEL (£119/€149) trousers are made from a new extremely soft and stretchy Japanese warp knit fabric with a permanent crease.
More variety for women & juniors
The latest Women's collection includes the streamlined GORE-TEX Paclite jacket AILA (£289/€329) with hidden pockets in four colours. Fresh in the versatile INTERFACE-1 range is the LISA (£189/€199) bodywarmer in a new fabric with padded inserts on the front and back, plus the LORENE (£209/€229) jacket in Red with body-mapping for additional warmth where needed most.
In the brand-new INSULA range, the DALIA (£79/€89) crew neck sweater comes in another super soft fabric and features a fashionable wavy 3D knitted fabric. The classic looking DAISY (£129/€139) sweater is extremely comfortable and the DINA (£99/€109) has a soft feel close to the skin thanks to a lyocell fabric made from wood fibres.
All new shirt styles include the MIRA (£79/€79) and MASEY (£79/€79) skort combination outfit in fashionable stripes, offering exceptional breathability and UV 20+ protection, plus the long sleeve MARY, (£79/€89) intended to meet the trend for covering arms out on the course.
A growing Junior range that mirrors much of the Men's range, includes an additional shirt (RUSTY – (£109/€119) and trouser options (ROSS – (£115/€129), plus the ROB (£69/€79) INSULA sweater and ROBBIE INTERFACE-1 hoodie.
In addition to the SKINTIGHT thermal baselayer range, the comprehensive selection of accessories includes more caps, belts and unisex sun visors, plus the ever-popular rain hats and snoods.
For details of the latest clothing options, visit www.galvingreen.com.