Adidas have unveiled their first golf shoe featuring two BOA dials: Adidas Tour360 XT Twin BOA. Similar to the proven dual dial configurations well known in the cycling industry, this system provides a customised performance fit that caters to the varying needs of golfers and provides lasting comfort on the green.
Upper Zone
Works for a macro, secure fit around the collar and provides support to prevent power leakage throughout your swing. The side-mounted dial helps to close the tongue and securely holds your heel.
Lower Zone
Provides micro-adjustability from the middle to bottom instep for customized fit, feel and support, without irritation or discomfort.
Where fit, design, and innovation meet – the adidas Tour360 XT Twin BOA is the epitome of performance golf footwear. The shoe is designed to offer micro-adjustability in two separate zones. The first is the independent main dial with high strength BOA lace that when combined with the forged 360 wrap creates unparalleled power for your swing by locking the area between your midfoot and forefoot.
BOA offers instant micro-adjustability, down to a precise one millimeter per click, allowing golfers to dial in the perfect fit for consistent comfort and performance from the driving range to the 19th hole.
BOA is built lightweight, waterproof, and ultra-durable. Engineered to perform in all conditions, the BoaFit System is rigorously field tested and guaranteed for the lifetime of the product on which it is integrated.
Delivering fit solutions purpose-built for performance, the BOA Fit System is featured in products across snow sports, cycling, hiking/trekking, golf, running, court sports, workwear, medical bracing, and prosthetics. The system consists of three integral parts: a micro-adjustable dial, super-strong lightweight laces, and low friction lace guides. Each unique configuration is engineered for effortless precision delivering a connected, fast, customised and durable fit, and is backed by The BOA Guarantee.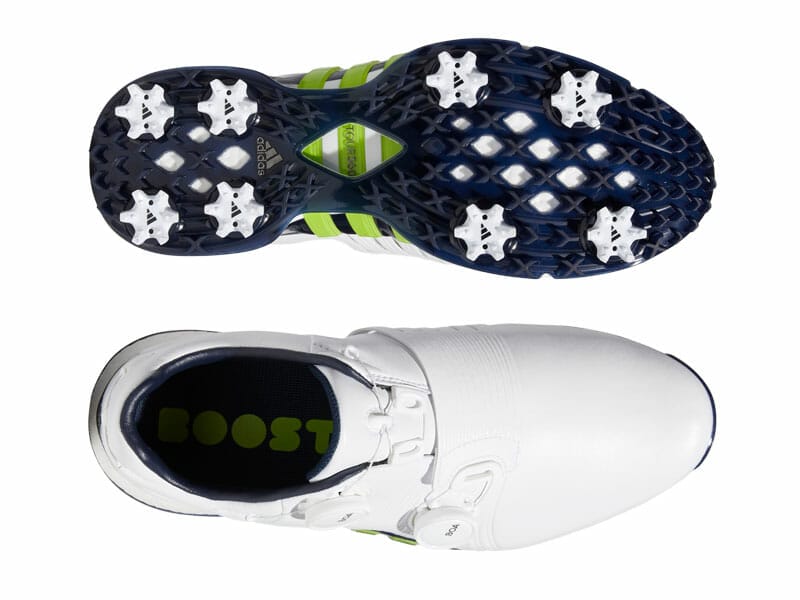 The Adidas Tour360 XT Twin BOA is available now at an RRP: €249.95