For 2023 Callaway have set out a "Paradym Shift" in how its drivers are constructed with the launch of its new Paradym family of drivers which Callaway say is their best combination of distance, forgiveness, and adjustability, "The New Paradym in Performance"
The key technology comes in the shape of a 360˚ carbon chassis. For the first time Callaway engineers have done away with any trace of titanium in the body, saving weight to use elsewhere for more forgiveness.
We are all familiar with the use of carbon fibre crowns and soles in drivers, its lightweight, really strong and frees up weight to allow engineers enhance performance. The carbon crown or sole would be glued to an aluminium or titanium body frame and this is where Callaway are making a major shift for 2023.
The crown is made using triaxial carbon fibre that is extremely strong, while the sole is made from a forged composite created by chopping up carbon fibre pieces, melting them together then shaping the material. (This forging is why you see a blue metallic colour from the sole)
The result of bonding the two carbon fibre areas is a new chassis that is 44 percent lighter than a titanium constructed body giving Callaway a huge amount of scope to move weight both forward and back to maximise performance and forgiveness with Paradym.
Jailbreak has come a long way since its introduction in 2017. As artificial intelligence continues to improve the face, Callaway have used AI in Paradym drivers to redesign Jailbreak has a new look and position to work hand-in-hand with the titanium face. The new Jailbreak system is like a wishbone shaped brace strategically placed behind the face in the Paradym drivers bracing the sole and crown. The most significant difference is it weighs 33 percent less than the Jailbreak Speed Frame used in last season's Rogue ST drivers.
The A.I. Optimised face has evolved even further using artificial intelligence with each Paradym driver featuring a unique face with a series of ridges and valleys of various thicknesses to improve both ball speed but also dispersion. Callaway have also adapted each driver face to match the best performance window throughout the loft of each driver meaning the face in a 9 degree model will have a slightly different AI face design than the exact same driver in a 10.5 loft.
The face insert is held in place by an AI cup face that extends from the front of the club, around the heel, toe, topline and leading edge and into the carbon fibre chassis. Shaped like a cup, it allows Callaway designers to make certain areas thinner more efficiently for increased deflection over a more significant portion of the hitting zone.
With the combination of the new forged carbon chassis, improved stability from the next generation of its Jailbreak design, an A.I. Optimised face for downrange dispersion and a Face Cup for faster ball speeds Callaway have the perfect speed machine with Paradym. They not only promise faster ball speeds but a tighter dispersion too – up to 15% straighter than last years Rogue Max ST which was one of the most stable drivers available in 2022. A bold claim we cant wait to test.
The Paradym Driver family is made up of three unique models, Paradym, Paradym X and the The Paradym Triple Diamond each featuring the above tech but built for totally different players. The three heads will come with stock shaft options of the Aldila Ascent PL Blue shaft, Project X HZRDUS Silver shaft, Project X HZRDUS Black shaft or Mitsubishi Kai'Li White shaft and Golf Pride Tour Velvet grips.
PARADYM
The Paradym Driver head features a refined shape with high MOI and adjustable perimeter weighting. From a 15g sliding weight, players can experience an average of 12 yards of shot shape correction. Available in lofts of 9, 10.5 and 12 degrees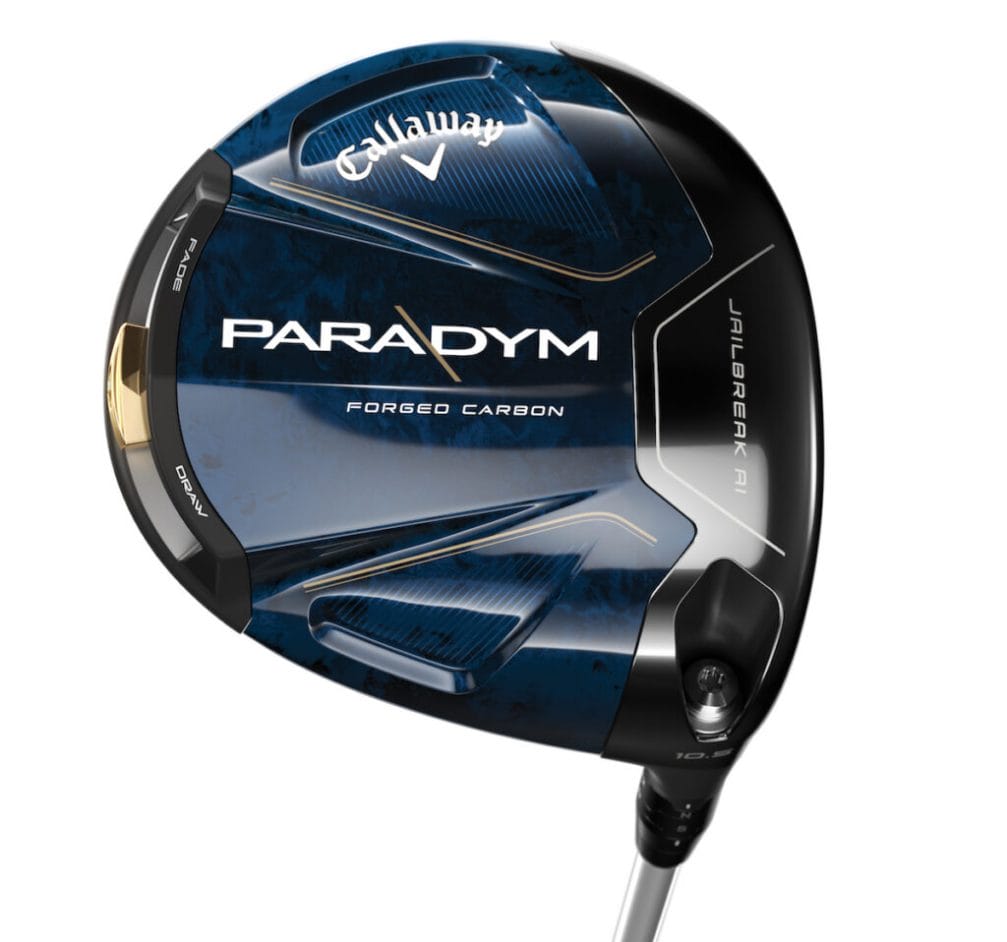 PARADYM X 
High Launch & Low Spin from a Forgiving Shape, Paradym X is built for a high launch with high MOI, along with a generously stretched profile at address. This model is best suited for golfers seeking extreme forgiveness and a slight draw bias from their driver. While Paradym X does not have a moveable weight in the back, it does come standard with a 5-gram weight in the back. This driver produces a higher launch and slightly more backspin than the standard Paradym and will be available in lofts of 9, 10.5 and 12 degrees
PARADYM TRIPLE DIAMOND
The triple diamond model will most likely be the most popular head on Tour and faster swing speed golfers. With a more-compact head shape and no draw or fade bias it has forward and back weight ports. It comes standard with a 2-gram weight in the back and a 14-gram weight in the front which can be moved to change the spin rate by approx. 250rpm depending on the configuration and really dial in your flight.
The Paradym Triple Diamond is available in lofts of 9 and 10.5 degrees and for the first time an 8 degree head will be made available – this was only a Tour option in previous TD lines.

First Impressions & Verdict
There is no doubt Paradym will be one of the best performing and top selling clubs in 2023. Visually its extremely impressive behind the ball and is packed with serious technology. Our initial testing has shows ball speed gains versus last years Rogue Max ST and more importantly a tighter downrange dispersion too. There is a perfect fit for every golfer in one of the three Paradym driver family heads and we are very excited to get testing and bring you in depth reviews between now and the Paradym becoming available to purchase on Feb 24th. The only area the Paradym does not get the full thumbs up is in the RRP which will come in at a whopping €699, the most expensive driver we have looked at so far of the 2023 models! It's a hefty investment but you are getting a whole lot of club.