When Katsuhiro Miura first began forging irons in 1957, he dedicated his career to refining the classic iron. He has since been joined by sons Shinei and Yoshitaka, and the multigenerational collaboration has produced some of the finest premium clubs in the game.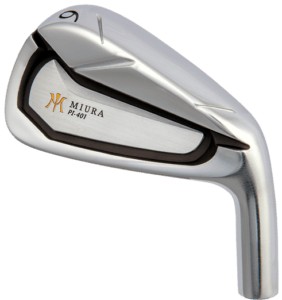 Miura's endless quest for the perfect club has brought more than 10 product series over 60 years of craftsmanship. Each club is individually handcrafted and will never be mass-produced, as generations of steel-making skill and passion bring us the world's finest golf clubs. That number continues to grow as the next generation of the Miura family, the PI-401 offers that quality but in a profile designed to suit golfers of all skill levels.
"We have created an exceptional iron that goes
higher, straighter, and further than any club we've ever produced, all while maintaining our family's standards for design and performance," said Shinei Miura, who now leads the factory in Himeji, Japan that bears his family's name. "Using two different materials, we were able to manipulate weight distribution in the PI-401 and introduce a club that is worthy of bearing the Miura name."
"The Miura family doesn't design clubs based on market trends; Miura irons are produced solely by the pace of inspiration," said Hoyt McGarity, CEO of Miura Golf. "After years of monitoring the evolution of technological innovation, the family finally felt comfortable stepping into this equipment category, designing an iron without compromise that is the perfect gateway to the Miura lineup."
The PI-401 is designed to help golfers get the best out of their game. By delivering minimal offset at address, the club head frames the ball comfortably, inspiring confidence and control. The two-piece construction has enabled Miura Golf to optimise the thickness of the club face. Made from Premium S35C carbon steel, the 3.6mm ultra-thin face allows for an enlarged sweet spot generating faster ball speed, higher trajectory, and further distance. All without compromising the sensory feedback golfers covet.
Using a cast 8620 soft steel body, the dual-material iron bears a larger head and wider sole for more forgiveness with an even distribution of weight throughout the club. The widened sole with four separate angles improves turf interaction with less resistance and is consistent in a range of conditions.
McGarity added: "The Miura family understands the scrutiny that comes with lofty expectations earned over six decades of craftsmanship. With the PI-401, we are finally able to deliver the tangible performance of Miura equipment to golfers of every skill level in a new design that'll feel distinctly familiar in the hands of anyone who has played Miura irons before."
The set of clubs runs 4-9, PW, and GW, and retails for €290 per iron. Golfers can purchase the PI-401, and all other Miura products, at authorised club fitters in Ireland or have them assembled at www.Miuragolf.com