TaylorMade has announced the all-new 2021 TP5 and TP5x golf balls. With the third generation of TP5, TaylorMade has once again pushed the boundaries of performance by redefining the path to distance with its new Tour Flight Dimple Pattern – designed to provide improved aerodynamics and carry distance at every level of the game.
The new dimple design has a unique dual-radius shape that decouples dimple volume from depth to optimise airflow around the golf ball during flight, ultimately reducing drag and promoting distance.
TaylorMade first set out on this path in 2017, when TP5/TP5x debuted as the industry's only five-layer Tour ball. By utilising a proprietary construction with four increasingly stiff layers wrapped in cast urethane, engineers effectively created the foundation for optimising both distance and spin.
In 2019, the company wove High-Flex Material (HFM) into the construction of TP5/TP5x to more efficiently convert compression into ball speed. Known as the Speed-Layer System, this design injected a new level of speed into TP5/TP5x compared to the prior generation.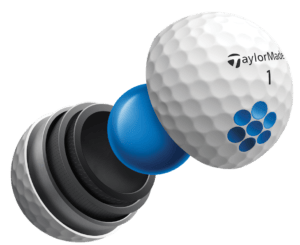 "Since 2017, we have blazed a path to distance and speed with TP5/TP5x – building upon a foundation of Tour-proven performance with the patented five-layer system at its core. With the development of HFM in 2019 and now the Tour Flight Dimple Pattern, we've examined every component of the golf ball to ensure that each layer is functioning at its highest possible level and working in unison to deliver unmatched performance on every shot," said Michael Fox, Category Director, Golf Ball & Accessories.
Unique Improvements to 2021 TP5 & TP5x
While the new Tour Flight Dimple Pattern enhances performance for both TP5 and TP5x, each product was individually improved based on Tour player feedback. Analysing insights from Dustin Johnson, Rory McIlroy, Rickie Fowler and others – who have used both prior models in competition – engineers discovered that players switched from TP5x to TP5 for the enhanced greenside spin and control in the short game. Conversely, players switched from TP5 to TP5x for the added distance and ball speed.
For those reasons, the new 2021 TP5x has a slightly softer cast urethane cover that better grips the grooves on a wedge for increased spin around the greens with lower launch, while remaining the fastest Tour ball in the TaylorMade lineup. The 2021 TP5 now has a larger, more reactive core that delivers more ball speed while retaining the same feel and spin properties of the prior generation.
Choosing Between the 2021 TP5 & TP5x
The 2021 TP5 and TP5x offer complete tee-to-green performance thanks to TaylorMade's proprietary 5-layer construction. Both models deliver world-class distance off the tee, with the TP5 having a softer feel and more spin around the greens, while achieving fast ball speeds with a new reactive core that is larger than the prior generation.
TP5x is the fastest and longest ball in the current TaylorMade lineup, with a firmer feel and
higher launch on iron shots. In addition, it has more greenside spin than the prior generation with a new and softer cast urethane cover. TaylorMade staffers anticipated to play the TP5 are Collin Morikawa and Matthew Wolff (pix), while Dustin Johnson, Rory McIlroy and Tommy Fleetwood will expectedly gravitate toward the TP5x model.
TP5 still provides a softer feel, increased greenside spin and a lower launch in comparison to TP5x, which is faster, longer and higher launching. The new individual enhancements give golfers performance precisely where they want it the most in both models.
Visual Technology & High-Visibility Yellow
TaylorMade released pix in 2020 to much fanfare among Tour players and amateurs alike. Being powered by the swagger and appeal of Rickie Fowler certainly helped, but it was the performance and functionality of pix that truly set it apart. Co-developed in conjunction with Fowler, the ClearPath Alignment system delivered innovation that golfers could see. The 12 evenly spaced graphics enhanced visibility while significantly aiding in alignment on the putting green and helping golfers immediately gauge the quality of their stroke. This technology was only further validated by the adoption of players like Matthew Wolff, who improved his putting inside 6' by nearly half a stroke after switching and moved his OWGR from 44 to a peak of 14th
For 2021, the visual technology behind pix will not change. However, the performance has been upgraded to match the all-new design of the 2021 TP5/TP5x with the Tour Flight Dimple Pattern, larger/more reactive core (TP5) and softer urethane cover (TP5x). The high-visibility TP5/TP5x Yellow will feature a new enriched yellow urethane that provides added durability and while maximising visibility.
The 2021 TP5 and TP5x will be available at retail on 12/03/2021 at an RRP of €58 per dozen. The new TP5/TP5x Yellow will be available at retail on 09/04/2021 and the new TP5/TP5x pix will be available at retail on 07/05/2021.