Cobra Golf 2020 Speedzone family is promising the best combination of power, speed and distance, extending to its fairways and hybrids offering for next year.
For 2020, Cobra is offering golfers the choice of three new fairway woods designed to suit a wide variety of golfers.  The first, the King Speedzone Fairway (£229), is a more traditional model, designed with back weighting and a slightly shallower face for easy launch, higher trajectories and maximum forgiveness that yields increased distance.
The second, the King Speedzone Tour Fairway features a compact shape, with forward CG weighting, designed for better players that desire low spin, a more piercing trajectory and workability.
The third fairway offering is the Speedzone Big Tour Fairway which features the largest profile of the three, stronger loft, forward CG weighting, and near zero CGna, that produces the optimal combination of fast ball speed, high launch and low spin for extreme distance. All three fairway options feature Cobra Connect Powered by Arccos which allows golfers to track the accuracy and distance of every shot using the Arccos Caddie app on their smart device.
Throughout the three fairway offerings, Cobra engineers focused on optimising four key "zones" in order to deliver more distance, forgiveness and accuracy than ever before.
ZONE 1 – THE POWER ZONE – the only forged CNC Milled Face in a fairway wood, created using industry-leading face manufacturing technology, allows for a thinner and hotter face design that is up to five times more precise than traditional hand polishing. This allows Cobra's R&D team to repeatedly, and consistently, expand the zone for maximum ball speed.
ZONE 2 – THE FLEX ZONE – The new split rail structure divides the rail system into a front and rear portion. The front rails, silver in colour, have been hollowed out to create thinner walls that flex with impact while still providing Baffler Rail technology to prevent the leading edge of the fairway from digging. The result is more flection for ball speed and higher launch, and a leading edge that glides through the turf delivering more club head speed through impact.
ZONE 3 – THE STABILITY ZONE – Dual Baffler Rails provide excellent stability and speed through the turf, allowing the club to glide effortlessly out of any lie and deliver more club and ball speed at impact.
ZONE 4 – THE LIGHT ZONE – An ultralight carbon fibre crown saves 10 grams of discretionary weight that is strategically positioned to lower the CG for higher launch with increased forgiveness.
Rounding out the high-performance design, MyFly with SmartRail technology affords golfers their choice of five (5) loft settings and three (3) draw settings to help manage trajectory and customize launch conditions while Smart Rail™ keeps the face square regardless of the loft setting.
---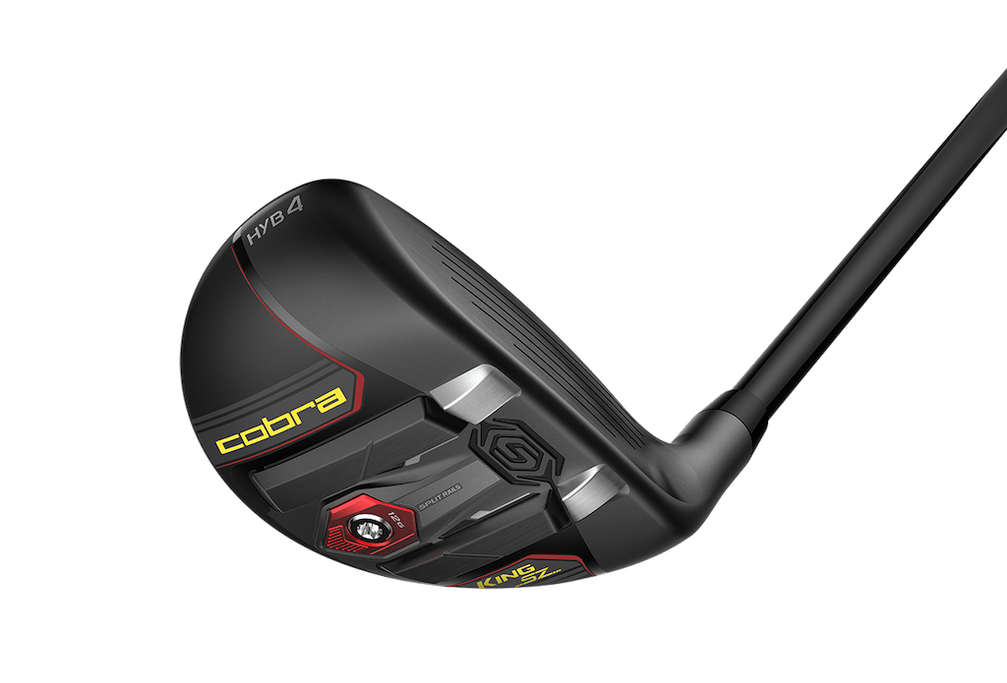 Providing the perfect complement to the Speedzone fairway woods, Cobra is also unveiling its new King Speedzone Hybrids, available in Variable or One Length designs. Again, engineers optimised specific zones of the construction to engineer the highest level of performance in a hybrid. The performance can be attributed to the following key technologies:
Hollow Split Rail Technology – allows for more flex than solid rails, creating a larger hot spot for higher launch and increased distance.
Back Weighting – weight concentrated low and back creates higher launch, more spin, towering trajectories and maximum carry.
Forged E9 Face– A forged, two-piece construction features a high-strength 455 stainless steel that can be designed thinner for increased ball speed.
Refined Shape – slightly larger than a traditional hybrid, the shape features a high MOI for increased forgiveness on off-center hits, and a square leading edge to improve alignment and accuracy.
COBRA Connect – Track your accuracy and distance and overall performance using the Arccos Caddie app on your smart device.
The King Speedzone men's Hybrids (RRP £189) are available in 2H (17O), 3H (19 O), 4H (21 O) and 5h (24 O) of loft and come standard with a aftermarket UST Recoil 480 ESX shaft in R, S or LITE Flex and a black Lamkin Crossline (58+) Cobra Connect grip.
The King Speedzone Women's Hybrids, in a stunning Matte Black/Rose Gold colourway, are available in 4H (21 O), 5H (24 O), 6H (28 O) and 7H (31 O) of loft and come stock with UST Recoil 450 ESX shaft in ladies' flex and a black/rose gold Lamkin Crossline Cobra Connect grip.
The King Speedzone One Length Hybrids (RRP £189) share the same performance boosting technologies as the traditional length hybrids do, in Cobra's patented One Length configuration. Each hybrid features 7-iron length configuration to simplify a players' game by allowing them to use one repeatable set-up and swing, giving them 7-iron consistency in their hybrid. These hybrids are available in 2H (19 O), 4H (21 O) and 5H (24 O) of loft and come standard with a UST Recoil 480 ESX shaft in S, R or LITE flexes (in RH/LH) and a blue Lamkin Crossline Cobra Connect grip.
All King Speedzone products are available at retail at online, January 24, 2020. For more information on the full Speedzone family visit, www.cobragolf.co.uk.